Howdy, Stranger!
It looks like you're new here. If you want to get involved, click one of these buttons!
Quick Links
If you experience loading issues with the login/register form, please completely disable ad blocker or use an incognito or in-private window to log in.
The 100 Best Cars of All Time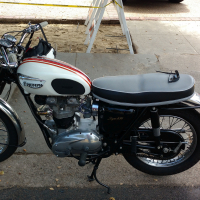 Mr_Shiftright
Sonoma, California
Posts: 61,718
An enterprising gentleman over at GeoCities has
posted a list of his picks for the Best 100 Cars
ever. Of course, such a list could be debated into
infinity, but I must say that aside from just a few
clunkers on the list, he's come up with a most
impressive display of automotive history.
I suspect he's a little light on the American
cars, so perhaps you'd like to look over the list
and make comments both here and to him at his site.
Keep in mind, however, we are talking about the
BEST cars (i.e., exceptional in some way, be it
performance, trend-setting or styling, that is
historically significant and memorable)...and we're
talking about ALL TIME, which is about 100 years.
So think about this. I'd be very interested to here
all of your opinions and suggestions for new
entries and upon what basis you might justify such
a candidate.
The link is:
http://www.geocities.com/MotorCity/1753/top100.htm
Sometimes you can't get right to it, sometimes you
can...if you can't, use the GeoCities search
engine to go to the "Motor City" section, and then
to Space 1753....you'll figure it out.
Mr. Shiftright
MODERATOR --Need help with anything? Click on my name!
Tagged:
This discussion has been closed.